🕒 1 min
Welcome to the first post of our shiny new blog featuring stories originating from Summer School of Science (S3). Imagine this place as a place of superhero origin stories, where these superheros wear their scientific capes in a variety of fields, trying to make the world a batter place.
But first, let's start from the beginning…
Who are we?
We are the members of the Society for Out-of-Frame Education (EVO), but mostly you will recognize our faces as your previous organizers. You will read about us as well.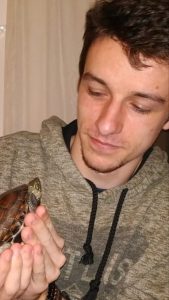 Why are we doing this?
Simply put, we want to get our S3 family together and have some fun while doing it. I personally want to hear your origin stories, what you have done since S3 and what you are planning to do. Moreover, we want to extend our family to everyone interested in science and its popularization, even if you've never been a part of S3. Who knows, maybe you find an interesting lab you want to visit or maybe you find a person from S3 living in the same city as you.
What are we going to write about?
There are plenty of ideas and topics we would like to discuss. The main focus will be the interviews with our S3 alumni, cool scientific books and articles we read, as well as overviews of great organizational tools. We will share some cool DIY experiments you can do at home, too.
When can we expect a story?
We will try our best to share a story with you every week. However, keep in mind that we are all volunteers, and that we want to talk to you, so don't be a stranger and get back to us once we contact you!
Tomorrow we will start with our first alumni interview. But before that, we would like to know – Do you like our idea? Would you like to share your story? Feel free to leave us a comment!