🕒 8 min
Hello, Lajos! Thank you for joining us in our series of interviews. We decided to talk to you because you were one of the foreign participants of the Summer School. Moreover, you decided to continue your education outside of your home country. In your case, you are studying in the UK, but you're from Hungary.
Let's first get to know you a bit more…
How and when did you decide that science is the path you're going to follow?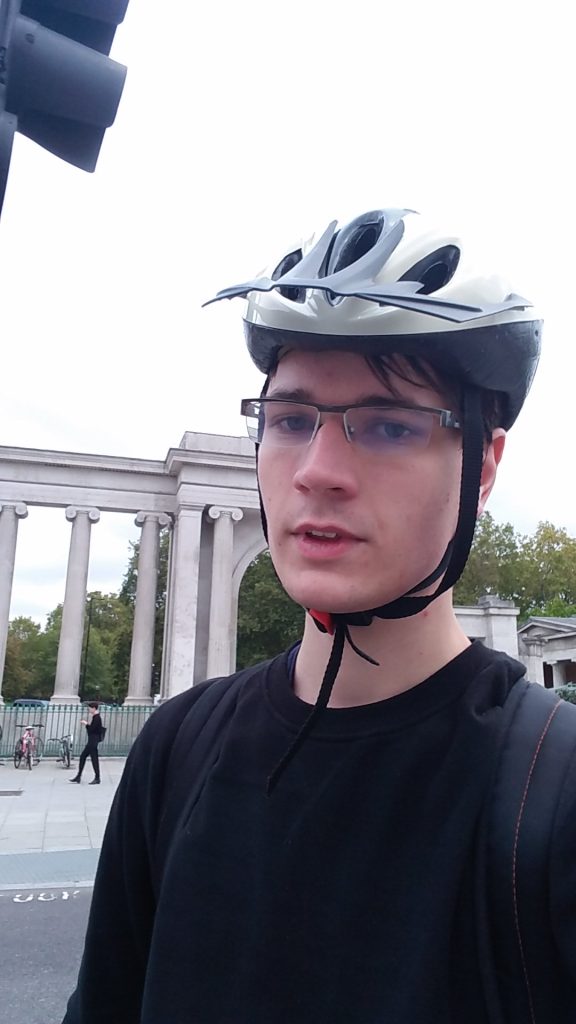 I remember doing all kinds of experiments at a really early age and reading up on them. I started with simple experiments like using red cabbage as a pH indicator. I think this has got me into science in the first place. And physics just came along. So in the end, I think it was a combination of being interested in different areas of science and maths.
Also, I think my father had an impact. He is an engineer and he taught me physics before I started school.
Education and culture shock
Now you're studying at Imperial College London. Can you tell us how you decided to study abroad?
There are several factors I took into consideration. It was partially because I think Hungarian higher education is being undermind. Without going into too much detail, Hungarian government funding of universities and science is very low and there are many incompetent people in leading positions. Also, my course in the UK puts great focus on experiments, which unfortunately heavily depends on funding. This is what Hungary is missing – there you only have the theoretical part.

Another reason was the language barrier. In high school, I made a terrible mistake by choosing Latin instead of some other world language. I only speak English so it was a choice between the UK or the US.
High school: 2014-2018, Fazekas Secondary Grammar School of Budapest
BSc: 2018 – current, Physics, Imperial College London, UK
You mention the experimental part of your course. Can you tell us a bit more about it? Also, how did you decide on a course?
Yes. So my course is officially called a Bachelor of Science in Physics (BSc), but I am planning to switch to a 4-year degree stream which includes a Masters. In the first year, you can choose between a more theoretical or experimental stream. In year two you can choose between mathematical methods, astrophysics, environmental physics, or communicating physics. In the third year, you then specialize in one area. Next year I am planning to take a course on advanced lasers, so I want to steer myself towards photonics.

My plan from the start was to study physics, but a year or two before applying I was also thinking about computer science, but I realized it was not really my area in the meantime.
What did the selection process look like?
In the UK, you need to write a personal statement explaining why they should select you for a particular course. If you successfully pass this stage, you're allocated an interview. In my case, the whole interview process lasted the entire day. They showed us around campus, the various departments; some students were showing us cool experiments and they also took us to some of the ongoing lectures. I think this helped me relax before the interview, which I would say was pretty standard. The questions they ask are problem-solving. However, I think they're more interested in the way you approach to answer the question rather than the correct answer. In case you get stuck, they try to give you some more guidance. In general, I really liked it, I was really calm. Compared to the interview I had in Cambridge… That took a whole year off my life. I was quite stressed at that time!
Can you compare universities in the UK to Hungarian universities?
That's a bit of a hard question as I didn't study in Hungary. In general, it is hard to compare the two systems as they are very different.
From what I heard, the mental support for students in Hungary is not existent. There is a university psychologist, but they are always overbooked. This is set up differently in the UK and it's very well established. There, you first have your personal tutor, a member of academic staff you can talk to if you have an issue. If the tutor cannot help you, you can always talk to the official mental health advisor.

Another thing I would highlight is the professor-student relationship because I really fell like I'm treated more as a peer. In Hungarian education, sometimes this is the case, but most of the time the student is there just to be a student.

Moreover, in the UK students are encouraged to ask questions, even if it's not relevant to the course. The worst thing that can happen is that you're told to come to the office to discuss the question you have. That way you can learn many things that otherwise wouldn't be in the curriculum.

As a drawback of some British universities, compared to those in Hungary, is that you cannot retake the exam and still get the highest grade.
How did you get along with British culture? What was the strangest thing you encountered and what do you miss about Hungary?
My university is very multicultural which is really cool. Mostly because you can see how people from different backgrounds think about the same problem. So it wasn't hard to adjust to the new environment.

However, and I don't know how this is going to sound, but I was scared of being hit by a car since they drive on the left side of the road.

What I really miss about Hungary is great street food. If you ever come to Budapest, you've got to try it!
Summer School of Science
You joined us as a participant at S3++ back in 2017. How did you find out about us?
It's a simple story. At the time, I was enrolled in a Hungarian program that was aimed at people who wanted to study abroad, especially in the UK. There I had a mentor Tamás Álmos Vámi, previous S3 participant, who was a physicist, and he suggested I should check it out. So I applied and got in.
So the experience you gained at the School helped you with your university application?
S3 certainly helped to prepare me for university. Especially because I had to talk in English all the time. It was also cool to have a nice, proper science project. I think everyone had a project in school that went terribly at some point, so it was nice to have a structured project on a topic I enjoyed.
Your project was about investigating the aerodynamic properties of a car. Can you, in brief, describe what you did? How did you like it?
We were simulating two cars with very different aerodynamic properties and then we used 3D printers to print the cars and calibrated the mechanism in our wind tunnel to measure the forces exerted on the cars. I was mainly focused on simulations.

It was really fun because the project was a combination of computer science and experiments. The project itself was a bit too engineering-focused for me, but there was still a lot of maths so in the end it wasn't that big of an issue. I really liked the 3D printer. I still have one of the car models we made.
Apart from the project, did you like the atmosphere at the School?
It was amazing! That was the first time I took part in a scientific project of this kind. I liked all the little things we did, such as a stand-up comedy night or theatre night. Also, a lot of amazing people and multiculturalism shines very brightly at the School.

It was also the first time I was introduced to Dungeons & Dragons. Then there was an amazing trip to Papuk Nature Park. We also watched stars on the roof of the school with the telescope. Amazing!

I would like to come back to the School once I graduate as a project leader. I might do a project or swapshop on spectroscopy.
Do you maybe keep in contact with some of the people you met at the School?
I'm quite bad at keeping in contact, but two years ago in Berlin, I met up with Inga Patarcic and Julia Hamblin-True. Inga was a project leader at my camp, while Julia was a participant. I was on a road trip with my friends and I spontaneously just texted them to meet.
How are you going to spend this summer?
I'm actually doing an internship with Dr Stuart Mangles at the Imperial. One of the things they're interested in is a so-called Breit-Wheeler pair production. In this process, two high energy photons interact to produce an electron-positron pair, but this is extremely rare. In my project, I'm using the same data to constrain the cross-section of another, even rarer process – photon-photon scattering – by simulating the setup and comparing it with the data. Since the university is closed, I'm doing all the work remotely, from home.
And in the end, is there any advice would you give your 5-years-younger self?
I would tell him to learn to play chess! I was terrible at chess and I think this is because I always focused on one thing and I wouldn't pay attention to anything else. And a lot of the things I messed up over the years were because of that. For example, that robbed me of entering the Hungarian national team at the Hungarian Young Physicists' Tournament in high school. In chess, you need to think of all the possible outcomes and paths that your opponent can take and not focus on only one thing. That's why I think learning how to be better at chess would help me learn how to look for and find a wider picture of anything I do.
Thank you, Lajos, for an interesting interview! EVO is wishing you all the best with your future studies and we hope to see you again at the Summer School!
How did you like it? Would you like to ask Lajos any extra questions? Let us know in the comments!