🕒 13 min
Hi, Nikolina, and welcome to our Presenting Alumni session. As it was time to talk to a PhD student, whom better to choose than a long-standing alumna. For those who don't know, Nikolina has participated in the school five times, and this year would have been her sixth!
But before we dwell into more details, let's get to know you…
So, who is Nikolina?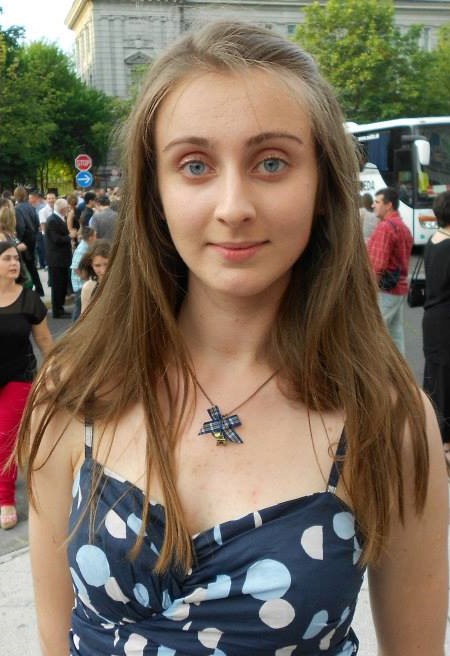 I guess I define myself through what I do – so, I am a chemist doing a PhD at KU Leuven in Belgium in the field of computational biology. However, I come from Zagreb, Croatia where I spent most of my life. And I am a huge science education and popularization enthusiast.
Education and career
How did you get into science?
My scientific story starts in primary school, where I realized that there is beauty in math and the natural sciences. This was additionally expanded upon by my chemistry teacher, who invited me to participate in the chemistry competition. However, I really found my scientific home in 5th Gymnasium in Zagreb, a natural-science-oriented grammar school, where – among many others – there was an advanced chemistry group of students. As part of it, we did a variety of experiments with our professor in evening hours, or we would get visits from university students who would give us interesting lectures. It was nice to be a part of such a group, we spent lots of time together and developed some long-lasting friendships. Maybe it sounds silly now, but one of the coolest things was going to national competitions in chemistry where we could all hang out together – and do some chemistry 🙂
Highschool: 2006 – 2010, 5th Gymnasium Zagreb
BSc: 2013, Chemistry, Faculty of Science, University of Zagreb, Croatia
MSc: 2015, Chemistry (Major Physical Chemistry and Biochemistry), Faculty of Science, University of Zagreb, Croatia
PhD: 2016 – current, Laboratory for Computational Systems Biology, KU Leuven, Belgium
What happened next, or rather what were your next steps?
Well, knowing that I was so passionate about chemistry, I briefly thought about studying pharmacy but ended up going to the Faculty of Science at the University of Zagreb. It was an easy choice, as I already knew so many of the people there from my chemistry groups. During your bachelor's studies, you usually earn basic knowledge and there are no separations between groups, while for a master's you can choose between teaching and research fields. As I was keen on doing experiments, I chose the research field of physical chemistry and biochemistry. I did my master's thesis in the biochemistry lab of Ita Grujic, under the direct supervision of Nevena Cvetesic, who was a PhD student at the time.
Nikolina, we met at a science popularization event during our studies, but I realized I never asked you about your love for science education. Can you tell us a bit about it? Why did you get into it and why did you find it important?
Indeed, we were part of a science popularization society at the time, Magic in Science, which promoted science in kindergartens. I still remember how amazed I was at just how interested in science five-year-olds were. For me, the key was to, in a way, return the favor to my community, or to create a new one if you will. So in addition to Magic in Science, I taught the chemistry group in my grammar school (as I was taught before), and later on joined Summer School of Science (S3) and Znanstvenik u meni (ZUM). In addition, I also prepared a workshop for STEM University of KU Leuven. By now, I just immensely enjoy teaching others, as well as organizing these events and thereby providing places where young science enthusiasts can meet and grow.
Now, for myself, and I would imagine for lots of our younger alumni as well, I would like to talk to you about that scary word – PhD. From what I remember, you moved to Leuven to do your PhD, but you changed it after some time. Can you please share that story with us?
As you know, Petra, after getting my master's, I briefly worked in a small biotech company called Genos, while looking for a PhD in Belgium, where my boyfriend was already studying. I was looking for a lab working with protein biochemistry, which I got interested in during my master's. I managed to find an interesting lab working on the topic of protein secretion in bacteria by using lots of top-notch technologies, so I wrote an email to the professor and, after some interviews and discussions, I decided to go for it. I received a yearly contract (as was standard in Belgium), during which I was supposed to work on active transport proteins, by using single-molecule methods, but I needed to learn a lot of new methods as well. I was mostly working with the lab manager and really soaking up knowledge.

And then it happened.

Our technician just disappeared due to the burnout. As she was also working on the preparation of protein systems for single-molecule studies, out of the blue people were expecting me to take over her job and do experiments for the others, completely ignoring my project, coming on weekends, and even getting suggestions from my boss to come during the night to use some instruments (that would usually be busy during the day). I was miserable. I thought of quitting, but then I started feeling super insecure – how will I ever find another job? A job in academia? Who will take me in if I say something against my previous boss? Or even worse, who is going to believe my story? After all, my boss is a professor, and the one that regularly has publications in top journals such as Nature and Cell! It was so scary!

However, I started noticing that I was not alone, as some other international students were also feeling emotionally and mentally abused by our boss. At some point I even got the suggestion to talk to one of our ombudsmen and disclose my case, to not only help myself but the other students as well. And I did it. And the sentence that ombudsman told me has stayed with me since then – "A PhD is not worth your (mental) health." After that, it was pretty clear that I would quit and I really wanted to leave as fast and as easily as possible. However, there was a twist. Do you remember that yearly contract? Well, there is a loophole in it allowing my professor to extend it without me signing anything! So in the end, I was advised to take sick leave and just disappear.
What happened next?
Well, I had already started looking for another position, as I wasn't ready to quit my dream of becoming a scientist. And with some administrative problems on the way, I managed to change to my current lab with an approximately two-month break. And here the story is totally different! The atmosphere was and still is more positive, everyone was ready to help in my transition from an experimental to a purely computational scientist, and my new boss Vera van Noort was always there to help and discuss. I cannot say that it ever was or is without challenges, as each of the four PhD students in the lab work on totally different topics, with barely any overlap. As I got a chance to truly dedicate to and nurture my project like my own baby, I needed to learn to be my own boss and be creative in finding people to get advice from. But after three and a half years on this project, I am confident to say that I've managed.
Thank you so much for sharing your story! It's very inspirational and I am sure there are others who now feel that they are not alone. However, your PhD is not yet done, so can you share the idea behind your project? What are you working on? And is there a light at the end of the PhD tunnel?
Simply said, I work on molecular dynamic (MD) simulations of proteins. In principle, you use the protein structure information from the public database and then ask a simple question – if I change a condition in which my protein is found, will it change its structure and function? Specifically, my project focused on post-translational modification and its function. And during my PhD I have developed an MD prediction pipeline to evaluate if a certain modification could be functional by evaluating its effect on the stability of protein-protein interactions. I started off with three specific proteins, the study that we published a few years ago, but then we extended it to many more, by focusing on several modifications at the same time. Now, I have met all the preconditions to finish my PhD, so I am ready to start writing my thesis.
That sounds cool. I could ask you lots of additional questions to understand it better, but maybe we should leave that to our audience. What is next for you?
That's a tough one. On the one hand, I've had enough of academia, especially after going through such a bumpy ride, and I am not sure if I want to stay in such an environment. On the other hand, I enjoy science, so maybe I just need a bit of a break. To be honest, I was thinking of looking more into science popularization / education possibilities, but for this I would need to know rather perfect Dutch to do it here in Belgium. Plus, as my partner is also a scientist with quite a strong academic portfolio, and for a typical progression in an academic career one would need to change countries, maybe I'll just start focusing on my next step outside of Belgium.
Summer School of Science
Switching gears to S3, you first joined us as a swapshop leader. Do you remember that experience? What made you want to stay and join again?
Oh, I remember it well. My friend Igor Markovic, whom I met during those chemistry groups in high school, was a technical assistant at S3++ 2013 and he just came to me to the library at the Chemistry Department and asked if I wanted to do a short workshop at S3. And I said yes without thinking. Only later did I realize it was an international school, so I got a bit nervous, getting ready to prepare all the scientific vocabulary to be ready for my students. I got a very international group of students (Serbian, Croatian, Hungarian and French), and for some of them this was the first experiment that they'd ever done. One of the students got very excited about seeing the gas formation (i.e. bubbles) in an experiment for the very first time, and I remember thinking how cool it was to be able to show and teach interested students something new.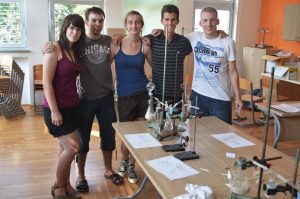 Among S3 organizers, you are one of the long-standing ones. Why do you keep on reprising that role? Do you want to grow as an organizer and finally produce the best school ever? Or is it really a combo between your loves for science, organization and science education?
It's a combo of everything. Plus, optimization of how to make it better every year. It's so rewarding and different than anything else. For example, when I joined as a project leader, I had to not only plan my experiments, prepare the equipment and get all the chemicals, but I also had to have a backup plan! What if it's hot, the ice melts during the bus ride and with it, my protein, leaving the experiment ruined? And during that time you work only with your 3-4 students, while as organizer you are trying to get to know everyone and get them comfortable staying at the School. I am simply an organizer in my heart (and a bit of a control freak), so I just want to ensure everyone has the best experience at the School.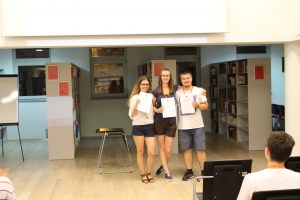 You were supposed to organize S3 this year, but we had to cancel it – for the first time in its history. How did this happen and what is the plan for the next year?
I must admit that I was very saddened by this. For me, there is usually no summer without Summer School of Science (at least for the past 5 years), but in the current situation it was best for everyone. Our hope is to have the same organizers and the same projects next year, but we will have to see. It could be that I will be defending my PhD during that time and won't be able to join. Plus, we are thinking of making a backup plan so that S3 doesn't have to be canceled again in case of such extraordinary events.
To finish off our S3 section, I would like to ask you about your personal best moment at the School. Which year was it and what happened?
After so many years, there are lots of funny (inside) stories. For example, in 2018, lightning struck the school and all the computers lost power, in some cases erasing presentations or losing IP information. So we learned to save our work quite a lot.

One of my personal favorites is the story of one of our participants from 2017, who was a technical school student at the time due to his parents' wishes, but a total biologist in his heart. So his project leader noticed that he was brilliant – not only did he have a talk with him to go to university, but we organized an S3-community-based study boot camp together for the following year until his final exams. And with his personal S3 teachers (previous participants) he managed to do it. This is what S3 is for me – a community that wants to help others thrive and be the best (scientific) version of themselves!
Finally, why should someone new apply to S3?
Because it is a unique and possibly life-changing experience, where you are allowed to do a real science life simulation. And you are surrounded by your peers, who are very enthusiastic to learn something more about science, as well as share their cultural backgrounds. Doing all the experiments under the supervision of slightly older master's and PhD students whom you can ask everything – it's just an amazing place to be.
Before we really let you off the hook, I think it's important to look at the person behind the scientist. Can you tell us what you do in your spare time? What makes you relax and enjoy life?
Like many other people, I like to read, mostly fiction and fantasy. Recently I also discovered comic books. Last year I got annoyed by the quality and taste of bread in Belgium, so now I am baking bread 2-3 times a week (and of course, growing my sourdough starter). And, after a long break from it, I've slowly started showing my artistic side by painting and drawing. I am currently trying to figure out which technique I like the most.
And now truly the last question. What would you advise younger generations? Or the older ones?
When you are interested in something, try it out. Even if it's not the most interesting thing for you at the moment. Who knows, maybe you figure out something that changes your life. And another, especially important lesson – it's never the end of the world, whatever happens in life, the path is never linear. You will survive it and you will be okay, just be open to yourself and listen to what your gut tells you.
Thank you, Nikolina, for joining us and telling us your story!
How did you like it? Would you like to ask Nikolina any extra questions? Let us know in the comment section!