🕒 15 min
Hi Vedrana, thank you for joining us for this interview. Being in the final year of high school, you are the youngest member of the S3 alumni network that we've interviewed so far. However, that doesn't mean you lack experience: you've already lived abroad, attended multiple schools and science camps, and you've even had the chance to write a book inspired by the scientists you met! But let's start from the beginning – can you briefly introduce yourself?
Hi everyone, I'm Vedrana and I was born in Zagreb, Croatia. These kinds of questions are particularly difficult for me to answer, just like when we were asked to write a bit about ourselves for the internal S3 newsletter, and it took me 2 months to come up with a text. I'd say I'm a person with a lot of interests – science, writing, drawing, cooking. Even though they might seem unrelated, in my mind they are all connected. I particularly enjoy using my hands to make stuff.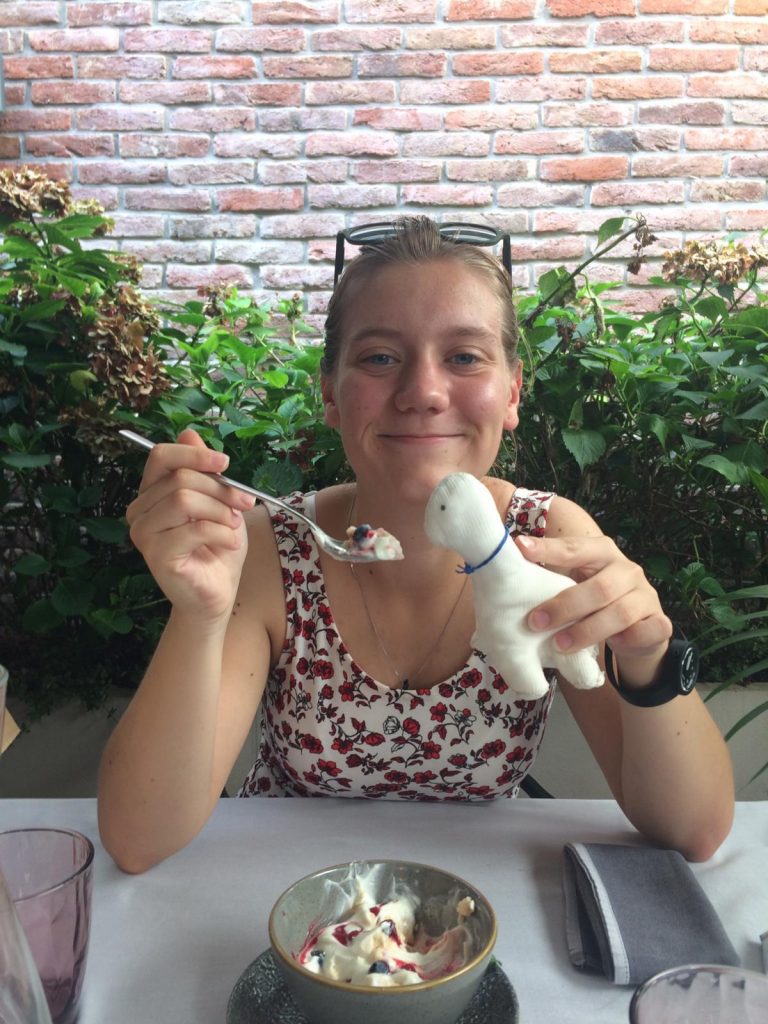 Education: a short but exciting story
You got the chance to live and attend a school abroad very early on. What brought you to the USA?
Indeed, when I was very young, I got to live in the States for a year with my mom and siblings. We were following my mom on her academic path – she works as a professor of linguistics at the University of Zagreb, and in 2009 she was awarded a Fulbright scholarship to spend a year at the Tufts University in Boston, Massachusetts. Because we knew this move was going to happen one year in advance, I actually began attending school in Zagreb right away, even though I was officially too young to start. The idea was that this one year of schooling in my native country would prepare me, at least a bit, for the experience in the USA. And I did indeed get an idea of how school works, plus I got to learn some basics of English language.
Elementary school: 2009 – 2017, Primary School Dr. Ivan Merz, Zagreb, Croatia
Elementary school: 2010 – 2011, 2013 – 2015, West Somerville Neighbourhood School, Boston, USA
Elementary school: 2014, NuVu – The Innovation School, Cambridge, Boston, USA
High school: 2017 – , XV Gymnasium, Zagreb, Croatia
Because you only knew some basic words and phrases in English, I can only imagine that attending school in the USA was a fun experience. Can you describe what that looked like, following classes in a language you could barely understand?
Fun is a good word to describe that experience. Things I knew how to say included absolute basics, such as saying my name, how old I was, etc. Therefore, it's no surprise that I found mathematics to be by far the easiest subject. During the other classes I would typically sit and try to catch as many words as possible when my teacher was speaking, without actually understanding what they meant. Then I would come home, repeat them to my mom, and together we would try to decipher what had in fact happened at school that day. It was a slow process, but it became easier with time, as I also got to attend additional English lessons.

Did you have trouble socializing, given that you couldn't really communicate with your peers?
Not really. Kids being kids, the only important thing at the time was running around the schoolyard together. It was definitely easier during our second stay in the USA, when I was actually able to have meaningful conversations with my classmates. But overall, I enjoyed the time I spent there, particularly getting to experience American traditions such as Halloween and Thanksgiving. My absolute favourite was trick-or-treating, which I really miss here at home.
Everything's indeed easier when you're a kid. How did you end up in the US for the second time? Also, you attended several schools in that short time period, one of which had an experimental way of work. Can you tell us a bit about that?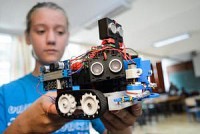 It was quite similar to the first visit, actually. My mom developed a collaboration with people at Tufts, and eventually they were able to pay for her to come back to the States once again. It was even nicer that time, not only because at that point I had decent English knowledge, but also because my dad was able to join together with the rest of the family. In the very beginning of the school year in 2013, I started attending a slightly more prestigious school (one that could be compared to private schools in Croatia), but I hated it and I didn't manage to make any friends. I therefore returned to my old US school after only a month.

The school in general looked totally different than in Croatia: while here we have 12+ subjects to study, in the USA there were only four – social studies, English, science, and math, in addition to which we had gym and art classes, and had to spend some time in the library each day to either read or learn the basics of computer work. I actually prefer the more generalised American education system, as the Croatian one can oftentimes feel overwhelming with the huge number of subjects we're expected to master.

When it comes to the experimental school, it happened a bit accidentally. In May 2014 my mom brought me to a science fair near MIT and she spotted a leaflet promoting this experimental kind of school in the Cambridge neighbourhood, called NuVu. It seemed like a cool place, and I got to attend it for 3 months in the fall of 2014. It was indeed an interesting, S3-like, experience. The entire program consisted of 2 weeks-long projects, in which I got to work on a specific problem in a group setting and under the leadership of a scientist. At the end of each of the 2 weeks, we had to present how we'd solved the problem. I really liked this way of learning, and I got to see and work with so many different things – laser cutter, 3D printer, programming, etc.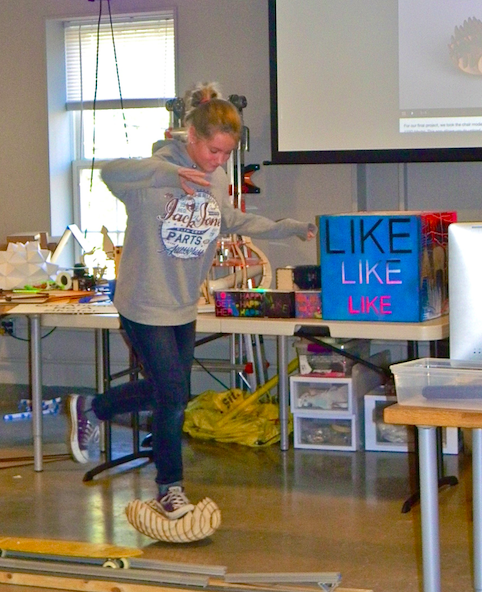 Given that your education abroad was so different from the system in Croatia, did you feel like you were lagging behind once you returned?
Not really. Some things were a bit unexpected, though. For instance, in the USA I was always in the top of my class when it came to mathematics, while in Croatia I was only average, which I found strange. Part of the problem was definitely the language – there were a lot of things that I knew, but just didn't know what they were called. In general, once we came back to Zagreb, I remember spending quite a lot of time learning verbs in Croatian with my mom. Automatically thinking in English instead of my native language is something that stuck with me till today.
How do you like your current high school experience, and do you get to work on some extracurricular activities there?
I'm happy with my current school, though I'm admittedly not really enjoying subjects such as history, as I was never particularly good at memorising things. The sad thing is that I'm also tragically bad when it comes to cheat sheets – they're too tiny to contain all the info I can't memorise, and I feel lots of pressure even by thinking of having them around. Naturally, my grades in history were never splendid. I enjoy STEM subjects the most, especially biology and chemistry. From the extracurricular stuff, in the first grade I joined a debate team, but I soon had to quit because it overlapped with my music school.
Are you still attending the music school? Which instruments do you play?
No, not anymore. Going to a regular and music high school at the same time felt like a bit too much, considering I'm not planning on becoming a musician. It all started in elementary school: my sister was playing the piano, my brother the saxophone, and I opted for African percussion instruments. It might seem like an unusual choice, but I went for those because they were fairly easy to master, which was important because I didn't know how to read the score, I had some minimal feeling for rhythm, and I don't exactly have perfect pitch. To give you an idea, I was that person who plays the triangle in the orchestra. Nevertheless, music is something I always enjoyed, so I even failed one grade of my elementary music school on purpose just so I could attend it for an extra year.
Summer School of Science
Attending Summer School of Science is a recent experience for you – you've participated at S3 2018 and 2019, both organized by Dora and myself. In addition, you applied for the 2020 edition, which was sadly cancelled due to COVID-19 pandemic. How did you decide to apply for S3 in the first place?
Once again, just as with NuVu school, my mom stumbled upon the news of the Summer School organized in Požega. The application deadline was almost there when I decided to give it a try in 2018. I wasn't overly excited about joining, but I gave it a try to see how I'd like the program. It turned out to be an amazing experience and I'm so glad I didn't miss out on it! From then on, I decided to try out as many things as I can, because you never know if you'll end up enjoying it.
I'm also really glad you decided to apply for our program. I still remember how Dora and I were blown away by your answers during the selection phase interview. So once you were on your way to Požega, did you have a very specific idea about the project you wanted to work on?
In 2018 I had decided which project was my favourite before coming to the camp. However, hearing the project leaders' presentations on the first evening completely changed my mind, and I gave up on my original idea. The following year I therefore didn't even bother to select anything up front. The funny thing is that I often end up doing projects in physics, mathematics and computer science, while I'm actually more fond of biology and chemistry. The same thing happened during my first S3, when I ended up on an engineering project.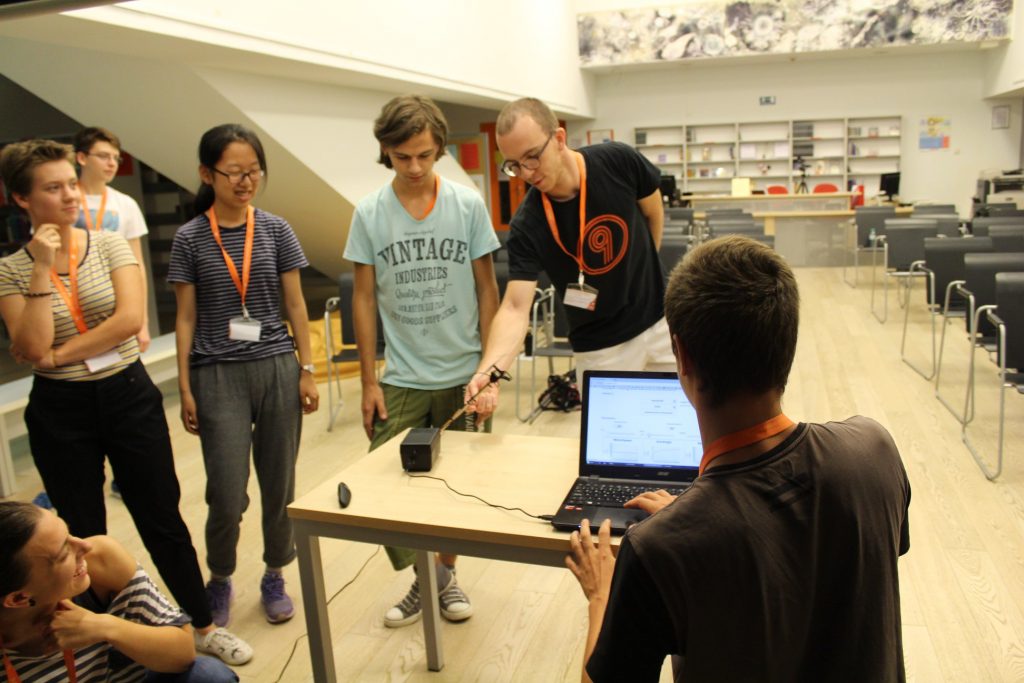 Which parts of your project work do you still remember?
At the first camp I worked on the project Get ready for takeoff! with Petra and Josip as project leaders. The project was very cool, as we got to build a helicopter. I found this engineering part – building the helicopter, soldering, etc. – the most interesting. Because I'd only finished my first year of high school, I had a bit of trouble following all the math, as well as some unusual ideas, such as constants which are also variables. Later on, when I looked back at our report with a better general understanding of math, I found it to be more clear.

In 2019, I worked with Rose on the molecular biology project In-DYE-go. I remember that many things didn't work, and what mainly stuck with me were the methods, i.e. using pipettes, lab safety rules such as that one shouldn't wear gloves when working with flame, disinfection rules (those came in very handy during this pandemic), etc. I found this project easier, probably because it felt more like stories and less like pure math formulas.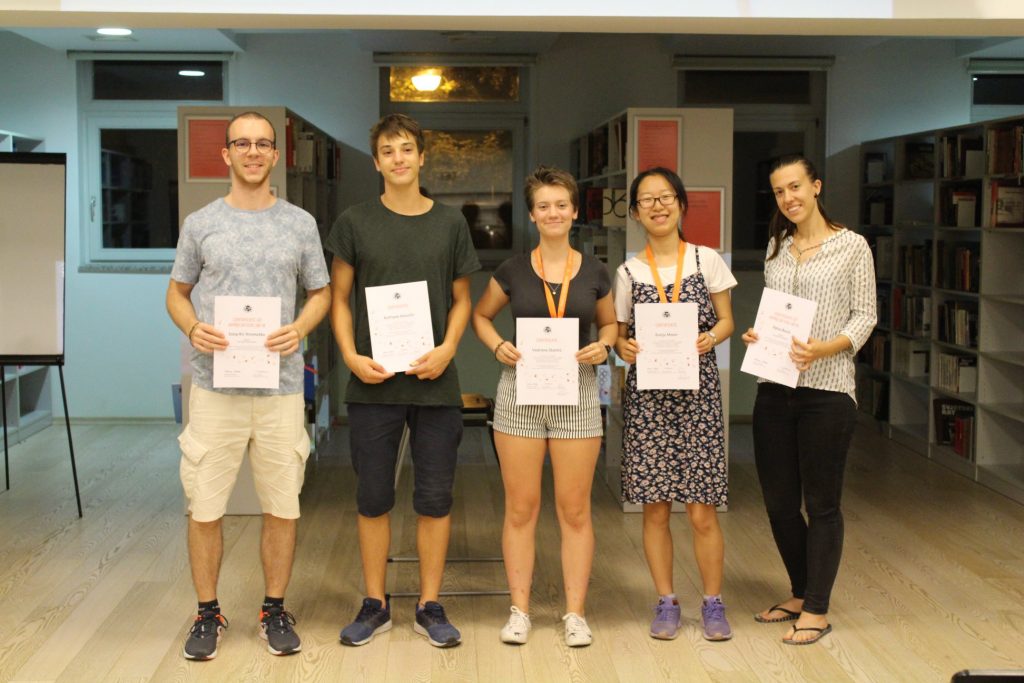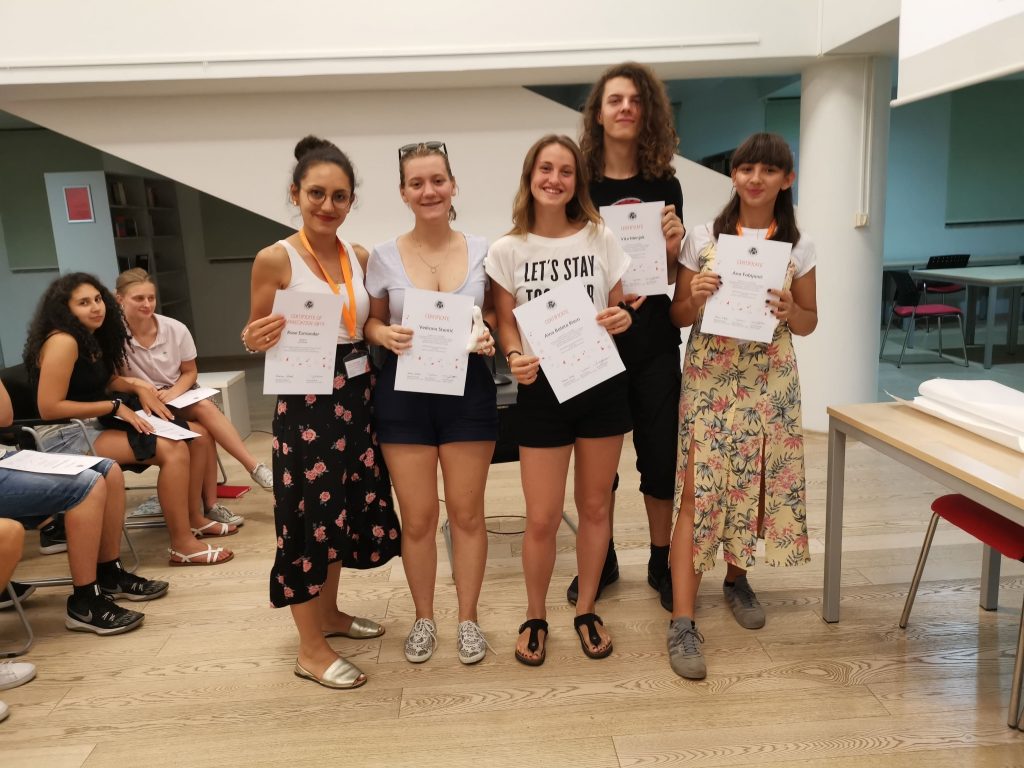 Overall, how would you compare the two experiences, and did you stay in contact with peers from your camps?
When it comes to project work, the experiences were completely different. Overall, I think I preferred the second camp because I felt like I fit in better with my peers. I wouldn't really say it's up to them, but rather that I've changed within that one year span between the camps. After each of the camps, I had the same two thoughts going through my head: 1. I want to sleep (a lot), and 2. I want to do it again!

In general, I'm not particularly good with staying in contact with people online – we do follow each other on social networks, but I often forget to answer their messages. I definitely prefer the in-person way of staying in touch. I do see Vito occasionally, and I go to the same class as Eloise, so I get to see her every day. Our Italian mafia, specifically Francesco and Federico, wanted to organise a get-together in Italy together with participants from Zagreb, Ash from Canada, Tania from Spain, etc., but coronavirus interfered with those plans. I hope that we'll get to see each other once this clears out.
It sounds like it will be an awesome get-together. Fingers crossed you can do it safely some time soon! One last question to end this section – would you like to come back to S3 in the future?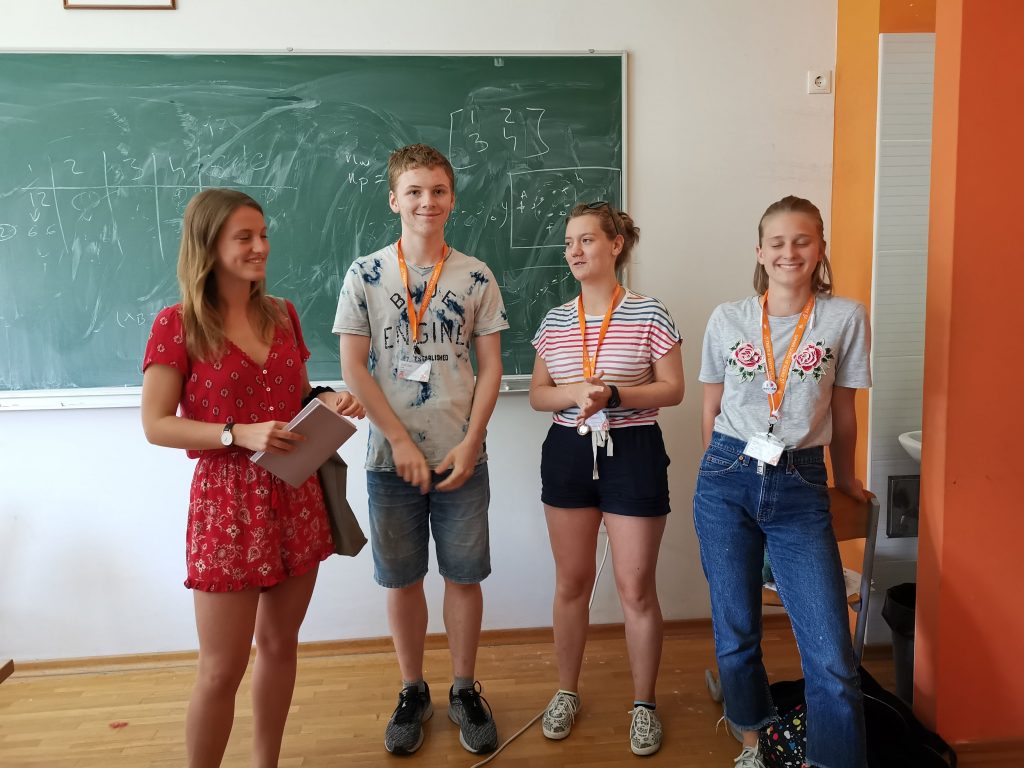 Definitely yes! I believe we should do everything in our power to organize and support programs like this in Croatia. I still have to figure out what my future scientific path is, but I would certainly love to come back to Požega in different roles, starting perhaps as a swapshop leader or a technical assistant.
Present: meeting scientists, writing books, and occasionally baking a cake
What I really like about your S3 story is that it didn't end in Požega. In fact, you stayed in touch with one of our invited lecturers from 2019, Dr. Ivanka Jerić from Ruđer Bošković Institute in Zagreb. Can you tell us more about it?
Ivanka is a very kind person and a great lecturer. While we were in Požega, she offered to give a tour of Ruđer Bošković Institute to everyone from Zagreb and the surrounding area. After the camp I asked you for her e-mail address because of it, and then contacted Ivanka to take her up on that offer. I visited the Institute several times, and each time she would take me to some of her colleagues from different labs, with whom I got to chat. I heard stories about their work, but also about the backgrounds of people in each of the labs. This really opened my eyes to the value of interdisciplinarity in research, i.e. each person offering a unique and different view on the problem depending on their background. Even though I cannot leverage this experience right away, as labs typically only accept university students as interns, I still liked meeting all those scientists. It also helped me to develop a clearer idea of the possible directions for my studies, as well as to learn about the good and bad sides of different study programs in Croatia.
It's really great how this entire experience resulted from S3. Was there a specific lab at the Institute that you found particularly interesting, and did you already make up your mind when it comes to choosing a direction for your studies starting next year?
I think that my favourite lab was the one dealing with cancer research. I found their work interesting because I'm fond of medicine, though not really of working with patients, just the research part. If I get to stay in Zagreb for my studies, I'll likely go for either Chemistry or Molecular Biology at the Faculty of Science. However, at the moment I'm also considering some programs in the Netherlands, which teach medicine from a more investigative/research point of view.
A few months ago, you contacted a few of us from the S3 camp regarding a book you're working on together with your mom. Can you tell us what it's going to be about?
You could say I come from a family of writers – my grandpa and my mom have written several books, my sister published her first book at the age of 16, and I've also loved reading and writing since I was a kid. At the moment, my mom and I are working on two books. One will be a collection of Croatian scientists' stories*, through which the reader will get to learn what scientists are really like as people, while the other book will talk about the importance of reading science popularization literature**. I thought it would be great to include some of the stories of S3 alumni in the former, as I found people at the camp to be an inspiring bunch.

* A journey into the unknown: Why I became a scientist (and how it came to be)?, editors and authors of the concept Anita Peti-Stantić and Vedrana Stantić

** Anita Peti-Stantić and Vedrana Stantić: Curiosity: Why should young people read science popularization literature, and why should they start now?,
I'm looking forward to reading the books as soon as they come out! Could you imagine yourself being a full-time writer in the future?
Because I enjoy the process of writing and coming up with ideas together with my mom, I think it could definitely become my long-term hobby. Recently I've also been having some ideas for making a picture book for children, featuring a pink animal. However, I don't think I would want it as my primary job.
Do you have any other hobbies alongside writing?
I also like drawing and cooking, though it comes sporadically. For instance, when I have a moment of inspiration, I will write a song, make a charcoal drawing and bake a cake, all in one day. But this is really something I cannot force; I just wait till I get inspired to do it.
For the very end, what message would you like to send to your peers who are thinking of maybe applying for S3?
I'd tell them that there's nothing to lose, and so much to gain. Your lives can become so much better due to this experience, so definitely don't miss out by not even trying to apply!
Thank you so much for sharing your interesting story with us, Vedrana. I wish you all the best in your future studies, as well as with writing and publishing your books.
Have a question for Vedrana? Let us know in the comments section!