🕒 4 min
In this post, we'll go through all the posts in the Study Abroad section so far, looking at the admissions for Canada, France, Belgium, the UK, the US, and Germany. We'll compare the various systems, deadlines, and requirements.
Introduction
Foreign college admissions happen in the final year of high school, mostly between October and May. Some depend heavily on where you're from (France), while others are almost identical to native admissions (USA, UK).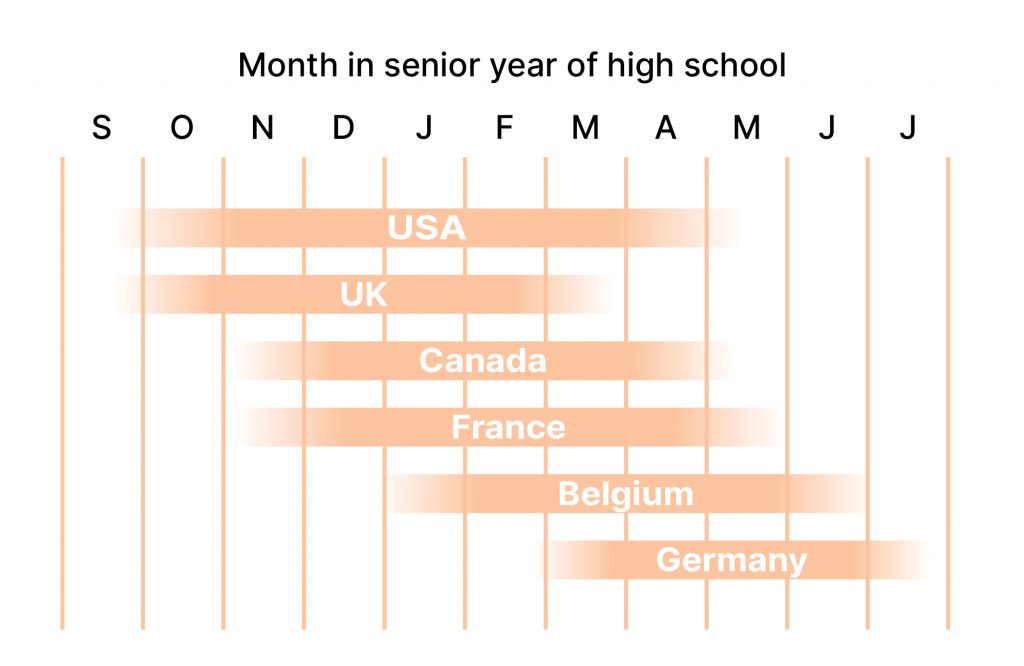 The USA has the longest admissions process. The other countries have roughly equally lengthy admissions processes, and the uncertainty is there mostly because of differences between deadlines imposed by individual colleges.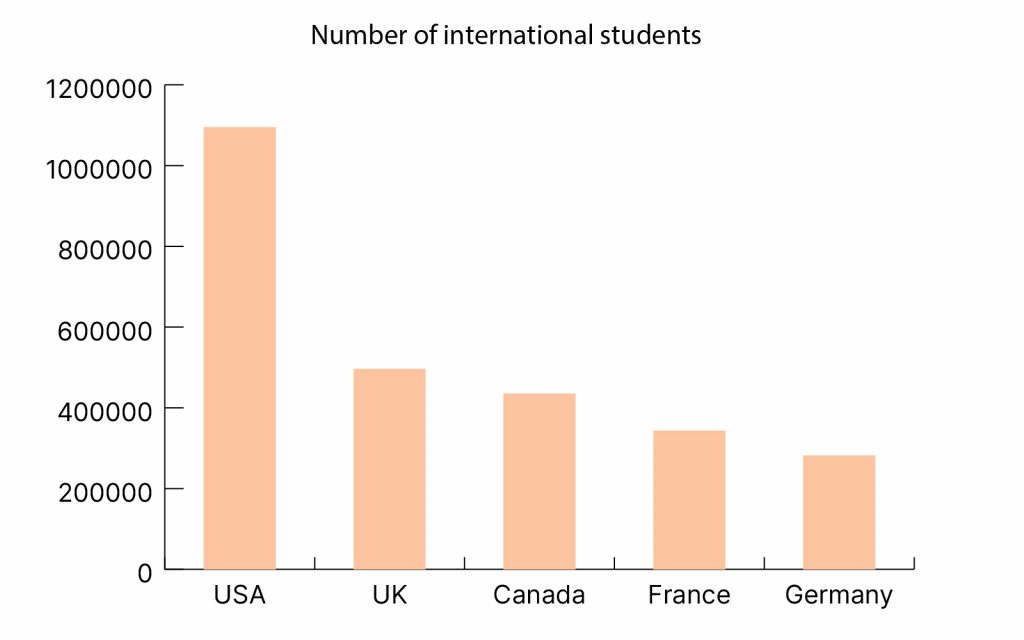 I'll use the word college to refer to academic institutions that provide bachelor's programs. I'll also look at admissions through an academics-focused student's perspective, and assume that you plan to study in English.
Standardized tests
For most countries you'll have to take at least one test in knowledge, along with an English proficiency test.
Tests can examine general knowledge (like the SAT, ACT, GRE, and the Core part of the German TestAS) or specific subjects (SAT Subject Tests, TestAS Subject-Specific Test Modules).
For US admissions you have to take either the SAT or the ACT, but the SAT is often accepted by colleges in other countries as a supplement to the application.
The most widely accepted English proficiency tests are the TOEFL and IELTS.
Applications
Foreign college admissions generally go through national (France), non-profit (USA, UK), regional (Canada), or college-specific (Germany, Belgium, Canada) websites.
There will generally be a part where you fill out your personal, family, and academic information. You'll also need to get some documents translated and send them through the application website.
American and British applications are mostly done by filling out standardized online forms (Common Application or Coalition Application for the US, UCAS for the UK), while the other countries we've covered tend to have a more college-specific application procedure.
The most commonly required documents are:
Academic diplomas and transcripts
Passport
Motivational letter
CV
Test results
Recommendation letters
Interviews
In some countries interviews are common (US and UK), while in others it depends a lot on the college you're applying to.
Interviews can be evaluative (common in the UK), which means that the representatives of the college (admissions officers or alumni) test your knowledge, or informational (common in the US), which means that they get to know you better.
In most cases, you'll be doing your interviews online, as interviewers are hard to find in most locations.
Scholarships
Scholarships are hard to find in some countries (Belgium), and in others they are integral and very common (US).
Most often, you'll have to apply for scholarships directly through colleges. In the US and parts of Canada, you have to go through an intermediary system called the CSS Profile, where you fill out your personal and family financial information and upload tax forms.
Costs
Admissions costs include testing, application costs, and bureaucratic costs. For most countries this will range around $50 to $150, but US admission costs can reach up to $1000 because of the expensive required tests and application fees.
In order to study in some countries, you need to demonstrate a high degree of economic security. Germany requires that you have around €10,000 in savings, and Canada requires that you have CA$10,000.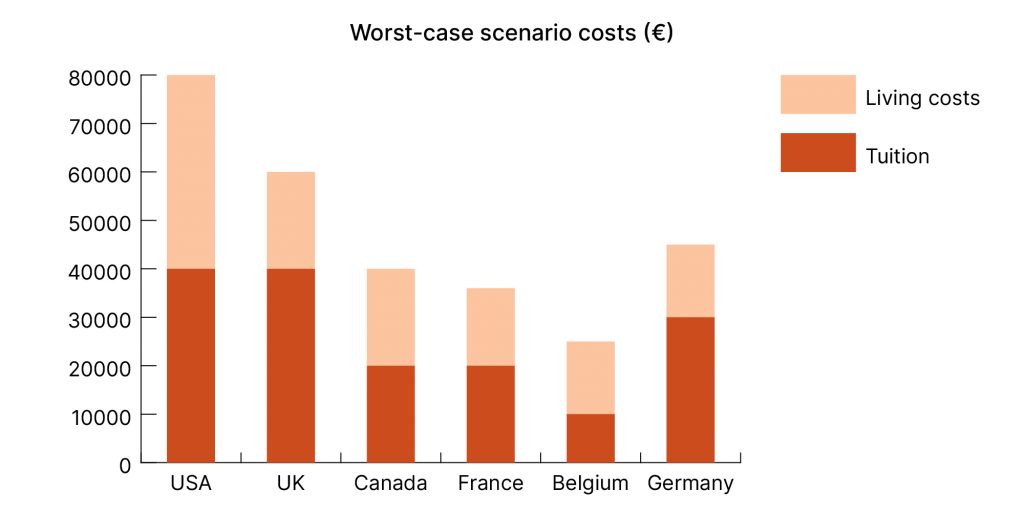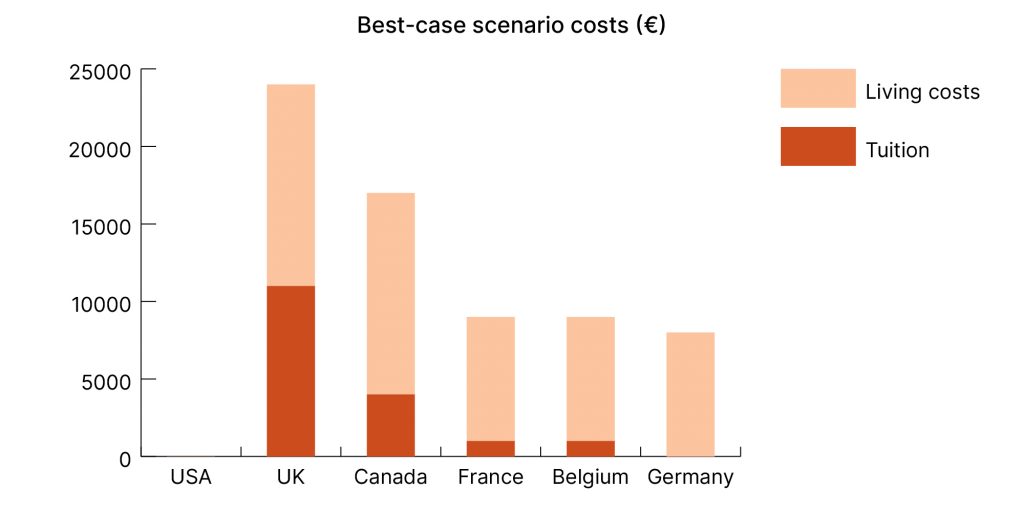 The most affordable countries to study in are generally France, Germany, and Belgium. France, Canada, and the UK all have higher living costs, but the UK stands out with its high post-Brexit tuitions. The US is infamously an expensive country to study in, but scholarships are so integral and generous that you can lower the cost to $0 with an excellent application. This means that the US is both the most and least expensive country to study in, depending on your scholarship.
Don't take these graphs too seriously, as costs can vary wildly depending on your college and location.
Conclusion
As we've seen, the US stands out the most when it comes to college admissions, the other countries mostly having similar processes and costs. It also places great emphasis on scholarships. The UK can be seen as a kind of middle-ground between the US and the other countries in terms of costs and admissions procedures.
If you're interested in how to apply to any of these countries, take a look at the Study Abroad section, where we offer a more in-depth explanation for each country.
Credits
This post and the rest of the Study Abroad section are based on the inputs of international students. Huge thanks to:
Bjorn Rambi from Albania who's now studying at LMU Munich,
Lajos from Hungary,
Janko from Croatia,
Karolina from Lithuania,
Samson Mercier from France.
Did I forget something? Do you have different experiences? Do you have any questions? Feel free to leave a comment.